Piss and vinegar. That's my girl!
Lulu was supposed to be named Amelia. I used to get my slow, pregnant, cardio stroll on at the Amelia Earhart Park in our neighborhood. When she was born after 36+  hours  of labor, she came out hand first. The husband looks at me and says, "Lulu?" This was no Amelia. Hand first. Ouch.
"Look out world! I'm Lulu!"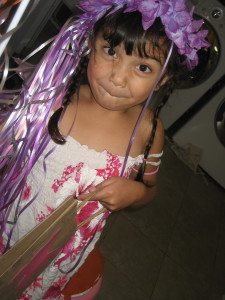 So 4 and 3/4 Lulu is in pre-school now. The girls on the yard have been playing their version of Mean Girls:The Pre-School Years. They try it out on my Lulu on the yard.
Mean Girls: We don't like your clothes your mommy picks out for you.

Lulu: I pick out my own clothes.

Mean Girls: Your clothes are ugly.

Lulu: I think they are beautiful. (Lulu exits.)
Love my girl! My sources tell me that the Mean Girls have successfully traumatized several classmates. The Mean Girls also steer clear of Lulu.